Ireland is exceptional when it comes to elegant and romantic wedding venues. No matter what type of celebration you want whether it is a formal celebration or big extravagant wedding, or even tailor your very own bespoke wedding, you really are spoilt for choice in what Ireland has to offer. So, you have found the love of your life and want to get married and find the perfect venue to suit you both. You should consider and think about everything that you need before you book a venue. Ireland is a magical place to get married and it offers the most beautiful natural settings and an excellent choice of venues to have your dream wedding. Ireland is the perfect place for you to make it official no matter what your budget or style may be. To help you make the choice, we have put together a list of the best choices and top wedding venues in Ireland.
Ballymagarvey Village 
Ballymagarvey
is known to be one of Ireland's most popular wedding venues based in County Meath. A 5-star venue and it offers 800 years of history. The hotel offers an amazing banqueting hall which is suitable for larger weddings with a capacity for up to 220 people. Their plush manor house bedrooms offer 5-star quality. The entire grounds of this venue offer tranquility and are laid out to perfection. Enjoy a civil ceremony in their mill loft. It is one you will never forget.
Errigal Hotel
Errigal Hotel is an exquisite hotel for a
wedding venue in Cavan
, with some of the best scenery backdrops in the country. This is a very affordable 4 star hotel that offers fine cuisine and luxurious rooms for the bride and groom and guests. The reviews online are spectacular, you couldn't ask for any better.
Trump International Golf Links and Hotel Doonbeg
Based in the West of Ireland's County Clare, Trump International Hotel offers a luxurious 5-star wedding venue. Your wedding memories will last a lifetime. A coastal haven where the rugged landscapes stretch as far as the eye can see. Trump Doonbeg offers an extraordinary experience for all your family and friends to enjoy. It offers timeless elegance and comfort combined with its stunning location and unique setting for any wedding party. The Pavilion marquee accommodates up to 250 people.
Ashford Castle Hotel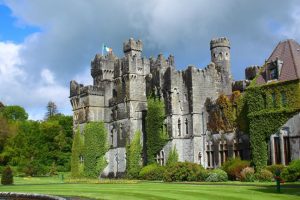 Ashford Castle Hotel
is located in the West of Ireland County Mayo. It was voted the number 2 best resort hotels in Ireland and the UK. The hotel offers the most unique and luxurious wedding venue in Ireland. From the moment you enter the grounds of the castle you are enchanted by its idyllic surroundings and its beauty, this is what makes it one of the best venues in Ireland. It offers two churches, amazing estate gardens, Victorian walled garden and lakeside Wood lawn pathways. It is the perfect backdrop for a picturesque wedding photo. The dining experience is something you will never forget.
Tinakilly Country House Hotel and Gardens
A stunning 4-star wedding venue located in County Wicklow. No matter type of wedding you want whether it be traditional or a grand affair, Tinakilly house is the place to go one of Ireland's beautiful grand old hotels. The country house venue oozes sophistication and charm. It offers unique luxurious bedrooms all decorated in stunning antique furniture. The country house stunning views of mountains, sea, and lakes and a very warm welcome. The ideal place to celebrate your special day.
The Shelbourne Dublin 
A renaissance hotel ideally situated on St Stephens Green Dublin, this 5-star hotel will make your wedding day dreams come true. An iconic landmark in Dublin City Centre. They offer many luxurious wedding packages to suit your budget and taste. No matter what style of wedding you want this is the place to go to. They offer the ideal wedding venue room catering up to 350 guests.
Knights Brook Hotel

Knights Brook Hotel
offers an exciting contemporary alternative for couples. Situated in Meath, this is a very popular wedding venue. It sits upon 186 acres of magnificent parkland. The hotel has built up a fantastic reputation for its food and offers an array of menus for you to choose from. They offer a highly dedicated team who will be honoured to make a dream wedding day come true. The magnificent and stunning scenery is breathtaking. A day that you will never forget for years to come. You will not be disappointed.
The K Club 
A 5-star wedding venue in the heart of County Kildare. It is surrounded by 550 acres of parkland, mature woods, and stunning gardens. It is the ultimate luxury venue for any wedding. The perfect wedding photographs will be taken here. It can cater up to 350 guests. So, if you are catering for a large wedding party this is the place to go. It offers incredible accommodation and a fine dining experience you will never forget.
Castle Durrow 
Located in the midlands of Ireland, County Laois. An 18th century building and a beautiful secluded and stunning castle wedding venue that is sure to knock your socks off. Dinner in the banqueting room offers spectacular decor chandeliers, silk panels, and large mirrors. Offering a grand and luxurious feel. The castle will offer you the most amazing wedding reception everything from start to finish is carefully planned to ensure the most perfect day. Caters for up to 185 guests. You will not be disappointed.
Castle Leslie 
Castle Leslie is a grand castle estate located in County Monaghan. It is nestled on 1000 acres of ancient woodlands, lakes, and Irish countryside. What more could you want? It has known and referred to as "Europe's most romantic hotel". Feel the charm and character that this castle offers and experience it for yourself.  It offers the most unique and enchanting accommodation that Ireland has to offer. It caters for up to 260 guests.
Lyrath Estate
Lyrath Estate is the perfect wedding venue for a larger wedding crowd. It caters for up to 600 guests. Lyrath Estate is a 17-century manor house and has been immaculately restored offering you a magical setting for any special day. Located in County Kilkenny. The grounds offer endless photograph ideas for capturing memorable photos. The food experience here is outstanding. You will not be disappointed.
---
BACK TO BLOG