Questions to Ask your Wedding Band before Booking
The band or DJ is the most important factor of your reception, let's face it, the music will make or break a wedding reception. When the wedding day has arrived, the vows are exchanged, the register signed, and the speeches are out of the way, you can then take a huge sigh of relief and hit the dance floor for the party of your life. For this, you simply need an exceptional wedding band. A well-chosen wedding band and music will set the tone for your wedding day so ensuring you choose the right band and entertainment is essential. Hire a top wedding band that has many years of experience in the music industry with a great reputation, great energy, and most importantly that they will play the music style you want for your special day. A packed dance floor is a key component to a memorable and fun wedding reception for both you and your guests. Read on in this blog as I have put together an essential list of the questions you should ask your wedding band before booking them.
Is our wedding date available?
Ask the wedding band is the date you want for your day available. If they are not available on that date, you can then move on to your next candidate and not waste any time.
How would you describe your style of music?
By asking the band what style of music do they play, it will give you an idea of whether they are the type of band you are looking for your reception. What music are they going to play? Is going to suit the guests and is it going to suit the atmosphere.
Can we watch you perform live?
Seeing the band perform live whether at another wedding or at a showcase will give you an idea of what they sound and feel like.
Do you use setlists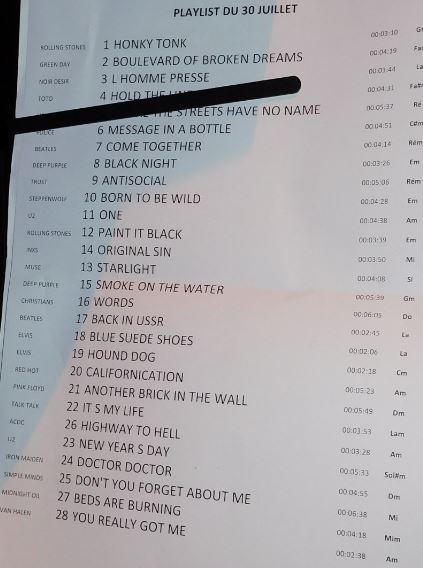 Ask the band do they have a complete set list of songs for the night. Ask can you see the set list and if you could choose some particular songs that you would like. It is important that the musicians you choose can adjust the music accordingly and read the wedding crowd.
Do you take song requests?
Ask the band do they accept song requests from guests that may want to have their favourite songs played during the wedding. A professional wedding band would prefer to have requests taken the right way and not shouted at them during their performance.
Can you learn some songs for us?
You may want your favourite song to be played at a certain part of the day such as the first dance so it is important to ask the band if they can learn something new for you, that is if they do not know this song already.
What do you wear at the wedding performances? 
When it comes to planning your wedding day, you would want your band to look smart. If you can't judge the band by their website or even social media, then simply ask them what they wear to most wedding receptions.
What is your cancellation policy?
What are the repercussions if we change our mind or even change the date of our wedding day?
Do you have a backup plan if there is an equipment issue?
Ask how they deal with these types of situations if a piece of equipment may malfunction. Remember it is your wedding day and you need to ensure everything runs smoothly.
How many weddings do you perform in a year? 
Asking the band how many weddings they perform each year will determine how experienced they are. This is important as it will tell how well they will handle the guests on the dance floor.
What music will be provided during the breaks?
The wedding band will not be playing nonstop from start to finish. You need to consider what entertainment will happen before and after their set, as well as during breaks.
Do you require a holding deposit?
Generally, most bands will require a holding deposit before a booking can be confirmed. Just be sure, confirm with the band if they require a deposit and how much are they looking for.
While any wedding band is worth their salt and will be able to play the tunes, it is said it's the couple who set the tone and make the party for their guests. Make sureyour dancing shoes are on front and centre on the dance floor. It is your wedding After all!
---
BACK TO BLOG